Apryl Schulman
Credentials
BA, Psychology and Nutrition. Certified, ACE, National Health Club Association and APEX
Specialities
Personal training
Locations
Las Vegas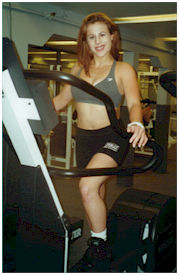 How can one describe Apryl Schulman's approach to fitness? Well, she mixes a spoon full of resistance training, a cup of cardiovascular challenges, a taste of nutrition and a whole lot of spunk into a fitness program that all will enjoy.

Apryl has worked in the fitness industry for over eight years. She has supervised and managed one of the nation's top fitness chains, assisting them in educating their staff in the art of customer service and how to optimize client results. She worked best with orthopedic and sports-related injuries and enjoys working with an elderly clientele as well.

She was formally educated at U.C. Davis where where she received her BA in psychology and a minor in nutrition. She holds certifications from the American Council on Exercise (ACE), the National Health Club Association and APEX, a national nutritional certification.

Apryl is a firm believer that with the proper tools and guidance, fitness goals can be reached without the use of gimmicks or fad diets. She designs realistic fitness programs that clients find challenging. She promotes exercise for health and wishes to empower her clients with the motivation to incorporate exercise into the rest of their lives.