Jean Scutt
Credentials
CPR certified, ICONFIT Master certifications
Specialities
Body building, body sculpting, athletic conditioning
Locations
Marin County, Peninsula, East Bay/Walnut Creek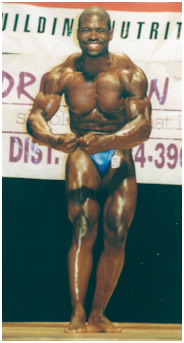 What more can be said about a three time Mr. Northern California, first place winner of the Internet Body Building Championship, Flex Wheeler Classic and most recently, Mr. Nevada and Mr. Millennium Heavy Weight Body Building Championships. Jean Scutt definitely knows his way around a gym.

Jean ventured into his first gym at 14 under the instruction of his older brother to learn how to "beef up" for football and wrestling. Like many young athletes, Jean suffered from exercise induced asthma, but was determine to not let it compromise his competitiveness. After 2 years of rigorous weight training and cardiovascular conditioning and a whole lot of determination, Jean found that he could control his condition and excel in sports. There was no stopping him now!

Her entered the stage of competitive body building in 1995 in top mental and physical form and easily earned distinguished titles usually held by more seasoned competitors. Ultimately, his love for the sport fostered his desire to teach others.

While pursuing his degree in Exercise Physiology, Jean applied the book knowledge to his practical experience to create challenging fitness programs for his varied client's needs. His knowledge in the field of body building, body sculpting and nutrition has allowed him to work with professional athletes, beginners, children and physically challenged individuals. He is CPR certified and holds master certifications from ICONFIT and in massage and stretching techniques.

His goal is to teach his clients life long techniques that develop and challenge the mental and physical abilities required to master their sport and achieve their goals.

If you have the will to learn, Jean has the skills to teach you how to become your very best!