Christina Tangora
Credentials
ACE Certified, Masters Degree, Education
Specialities
Triathlon coach, swim coach, fitness trainer, spinning instructor
Locations
Australia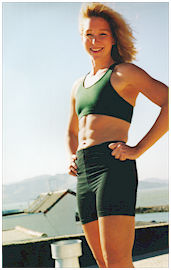 "It is not in the stars to hold our destiny but in ourselves." William Shakespeare

Christina Tangora earned her Masters Degree in Education from Stanford University and avidly combines her love for teaching and athletics in the programs that she designs for her clients. Christina has been a personal trainer and group trainer for over 10 years, but it was not always what she thought to be her destiny.

While pursuing her passion of exercise and fitness, Christina was also hard at work in the surreal world of corporate marketing and finance (she also holds a Bachelors in Business). After three knee surgeries put her on the side line for a year, she decided to follow her dream to become not only fit again, but a triathlete. Some people stop doing fitness activities after an injury, but for Christina, it made her fire burn brighter and stronger than ever before. She is currently training for the Ironman USA competition to take place at Lake Placid 2001 (2.4 mile swim, 112 mile bike, 26.2 mile run).

How does one prepare to be a triathlete? First you have to learn how to swim. Her love for swimming began at age 6. She has had quite a distinguishing career, placing in the top 10 of her age group in the 2000 Waikiki 2.4 Rough Water Swim, Catalina Triathlon and the Donner Lake 2.7 Mile Swim. While crossing the English Channel is not in her near future, she was a top 10 Women's Finisher in the St. Croix 5 Mile Open Water Swim.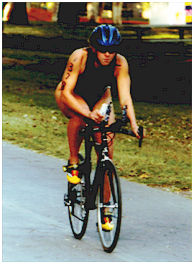 Next, you have got to build some muscle and some cardiovascular endurance. Christina is an ACE certified personal trainer and lifestyle and weight management consultant, as well as a Johnny G. Spin Instructor. She has trained peers in the corporate world during lunch breaks and formed group rides as well needed stress relief sessions. While working in Asia, Christina taught business men to swim and women executives about weight training, all while creating an accounts receivable system for her corporate client.

Now she is ready! Christina works exceptionally well with clients that need sport and injury recovery programs, coaching to complete swims and triathlons and those "busy-people-needing-that-start-up-or-to-get back-in-shape-programs." Christina is evidence that we can always change and achieve whatever we want. After all, "We are what we repeatedly do. Excellence, then, is not an act, but a habit". Aristotle.