Kristen Crabtree
Credentials
ACE Certified, Certified Hypnotherapist
Specialities
Personal Training, Triathlon and Marathon Coaching, Weight Loss
Locations
San Luis Obispo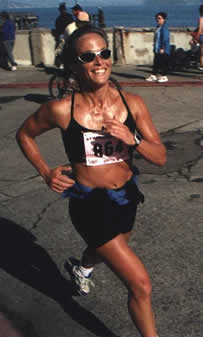 On November 30th, 1999, I was outside in the rain walking my dogs. I was sick of being 45+ pounds overweight, so dressed in full rain gear and boots, I just started running. That first night I could only jog — and slowly at that — for about 10 minutes. But it was my first step. Three months later I decided to train for a marathon.

Once I completed my first marathon (I didn't run it fast!), I was hooked on racing, but didn't want to exclusively run. I decided to look at other sports to get involved in. This led me to discover Adventure Racing! The combination of trail running, mountain biking, and kayaking, done in a team of 3, totally caught my interest. I began training in these sports and completed 3 races that year — allowing me to lose a total of 50 pounds within 1 year and 3 days of that first night of running.

Within that year, I also completed 3 marathons (Anchorage, Portland, and Sacramento) — shaving a total of 1 hour and 14 minutes off my Anchorage time — so that I was able to qualify for the Boston Marathon. That was an accomplishment that everyone said was impossible!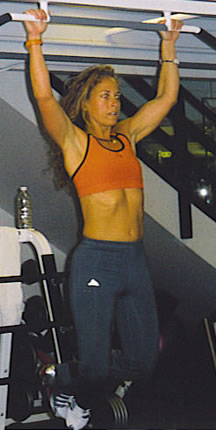 In April 2001, I decided to change careers as a result of my experiences! I believed I had a somewhat unique approach to fitness and that I could relate empathetically with other people who were substantially overweight and out of shape. I also knew that my more recent racing accomplishments gave me something to offer to those people who are already somewhat fit, but need some nudging and guidance.

I am now a certified personal trainer (ACE) and a certified hypnotherapist (getting fit requires the mind's assistance!). Outside the realm of fitness, I have a Masters in International Business with an emphasis in Marketing. I am also the primary partner in Playscriptions (founded in early 2001), an outdoor fitness organization.

My approach to fitness is that it is supposed to be pleasurable! Our bodies were built to run and jump and play -- some of us have just forgotten how (or temporarily lost the ability to). My personal experience with being obese and losing weight by finding ways to make exercise fun helps me do this for others.

I love to work with people who do not consider themselves to be athletes. If you are either in terrible shape (and/or very overweight) OR if you are exercising but need to discover how to love it or need to fine tune your techniques and abilities, then give me a call! I just may be the right fitness consultant/personal trainer for you!