Amy Valenzuela
Credentials
Certified yoga instructor
Specialities
Yoga instruction and dance therapy
Locations
San Francisco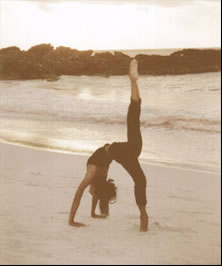 Coming from an extensive dance background, Amy Valenzuela was first drawn to yoga as a way to maintain her flexibility. But she soon discovered yoga's other benefits on both the body and mind: strengthening of the muscles, internal cleansing, and self-awareness. She draws inspiration from the Ashtanga Vinyasa tradition and enjoys introducing her students to the wonders of yoga. She believes yoga is a creative form of self-expression and an individual journey. Combining power with grace she emphasizes strength building, flexibility and a positive attitude, all in a safe and relaxed environment for the student.

Amy has been practicing yoga for 7 years and has 12 years of dance and movement training. She teaches both advanced and beginning yoga classes/workshops in San Francisco and the surrounding area. She obtained her certification from a leading yoga studio in San Francisco and studied under a world-renowned instructor for over 3 years. Her focus is on hatha and ashtanga styles of yoga and she teaches the Ashtanga Full Primary Series for those who wish to learn it.

Amy has led numerous Health and Wellness seminars, "Yoga at Work," and Fitness workshops at major corporations helping to prevent common workplace stress and injuries such as carpal tunnel syndrome, lower back problems, tendonitis, and neck and shoulder tension. She is available for private sessions for beginners as well as those who wish to deepen their practice with one-on-one instruction.