Peter Grimes , DC
Credentials
USA Track and Field Team Chiropractor
Specialities
Locations
Sacramento, San Francisco Bay Area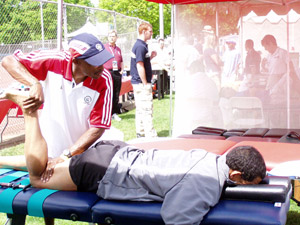 Dr. Peter Grimes, a native of San Francisco has not only dedicated his life to the achievement of athletic excellence, but to the advancement of health, performance, and the involvement of young people in sports. A 4–year Pac-10 All American in track at the University of California, Berkeley where he was a World Record holder in the 4x400m Hurdle Relay. Dr. Grimes epitomizes his life long pursuit of excellence and is the current World Champion in the 110m High Hurdles. Dedicated to teaching as well as competing, Dr. Grimes has volunteered his efforts as head coach for youth-oriented track clubs and is a fixture in the San Francisco Track & Field scene where he has worn the hats of meet director, official, and first aid coordinator. Dr. Grimes' most recent accomplishments as USA team chiropractor include:
USATF Team Chiropractor for the 2004 Olympic Games which were held in Athens, Greece, 2003 World Championships in Paris, France
2000 & 2004 USA Olympic Trials in Sacramento, California
2000 Adidas Forever Challenge in Sydney Australia.
Other athletic events include: 2002 ProAM Basketball Series, and working with various NFL athletes in the San Francisco Bay Area.
The best has yet to come; Dr. Grimes accepted a most gracious honor of joining the 2004 Olympians and President Bush at the White House for a meeting, team photo, and dinner. At the Olympic Games in Athens as part of the medical staff, Dr. Grimes assisted in the production of 15 Gold, 16 Silver and 9 Bronze metals, not mentioning the numerous athletes who did not medal. Still actively competing, you will also see Dr. Grimes at many of the indoor and outdoor meets in the season to come.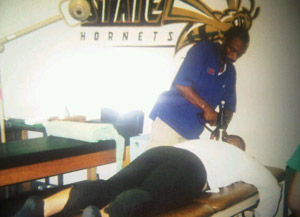 As a mentor, Dr. Grimes shares a paradigm for individual motivation in life skills building confidence, discipline, perseverance, and self esteem. Dr. Grimes continues to share his expertise and serves as technical advisor to over 20 local track and field programs ranging from the Saint Francis Preparatory High School to UC Berkeley and a number of elite athletes. Dr. Grimes has also volunteered his services on four Chiropractic Missions to Panama for the betterment of personal and athletic performance, working with the general public of all ages including two national semi-pro baseball teams.
A true role model, Dr. Grimes lectures on subjects that appeal to aspiring world-class athletes such as Technical Advising, Enhancing Athletic Performance without Drugs to Exercise/Conditioning Programs for Weight Loss and Fitness, to that which appeal to general audiences. Dr. Grimes' audience varies immensely from grade school children to the Baby Boomer population. He believes that there is no age barrier when one is seeking a Lifetime of Performance. So, find out why the best runners/athletes/individuals start at the back and end up at the top of their game.
And remember, For A Lifetime of Performance, Balance is Everything