Dr. Sonia Bell
Credentials
Stanford Hospital and Clinics Residency Trained-Physical Medicine and Rehabilitation/Sports Medicine Physician
Team Physician for USA Track and Field
Peak Performance Enhancement Specialist/Injury Prevention and Rehabilitation Specialist
Sports Medicine Rehabilitative Medicine Dance Medicine Athletic Rehabilitation
San Francisco Special Bookings
(Dr. Bell segment: 2:40 min)
Dr. Sonia Bell joins us from Stanford Hospital and Clinics, where she received her medical residency training in Physical Medicine and Rehabilitation/Sports Medicine. She is a graduated of the University of Southern California, Keck School of Medicine and obtained her undergraduate degree locally from the University of California, Berkeley in Physiology and Anatomy. Dr. Bell specializes in Physical Medicine and Rehabilitation, Sports Medicine, Performance Arts Medicine and Occupational Medicine.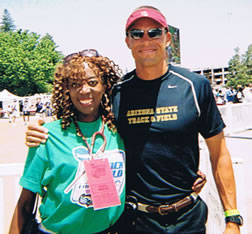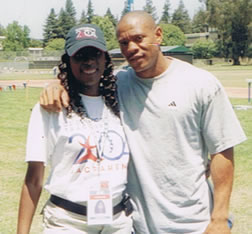 Dr. Bell was appointed as team physician for USA TRACK AND FIELD in 2008 and currently travels with them both nationally and internationally to provide sports medicine to the team athletes and urgent care services for the team and staff. She excelled briefly as a competitive athlete in track and field until she resigned from the sport after being offered a dance scholarship with the San Francisco School of Ballet.
Dr. Bell was a student of and performed with the San Francisco Ballet repertoire under ballet masters Robert Gladstein, internationally renowned choreographer Michael Smuin and company director, Lew Christiansen for over 13 years. During her career, she attended intensive classes and workshops at internationally recognized dance studios such as the Joffrey Ballet, the American Ballet Theatre, and Dance Theater of Harlem.
Her knowledge of athletic training and conditioning stems from 13 years of classical ballet training with the San Francisco Ballet and from years of experience as an personal and athletic trainer. She is well recognized within the athletic community for her extensive experience in field sports medical injury management, peak performance enhancement and nutritional consultation.
SPORTS MEDICINE/FIELD EXPERIENCE
USA TRACK AND FIELD – Team Physician 2008-Present
Special Olympics Sports Medicine Physician 2007-Present
IAAF Poland Championships 2008 Team Physician-USA Track and Field
ProAM Beach Soccer League Team Physician 2008-Present
2005-2006 US Figure Skating Championship- San Francisco Yerba Buena
2005- PEPA TRAINED: Sports Medicine consult for WWW.PEPATRAINED.COM, an NFL Pre-combine training company in Alameda, CA. ww.pepasports.com
2005 NCAA Track and Field
2005 Stanford University US Open Track Meet.
2004 USA Olympic Track and Field Trials
2004 World Figure Skating Championships
2002 MS Society 3-Day Fundraiser Challenge Walk
1996 Olympic Games
1996 Olympic Track and Field Trials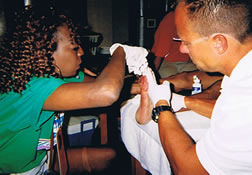 Dr. Bell is in high demand for providing medical coverage for both national and international athletic events. She is available for lecturing, motivational speaking and event coverage both nationally and internationally.
From football physicals to Olympic sporting events, Dr. Bell's medical expertise combined with her practical knowledge and experience in athletic conditioning, performance enhancement and injury prevention makes her the consult of choice to assist you in achieving your health related, athletic or sporting event coverage needs.